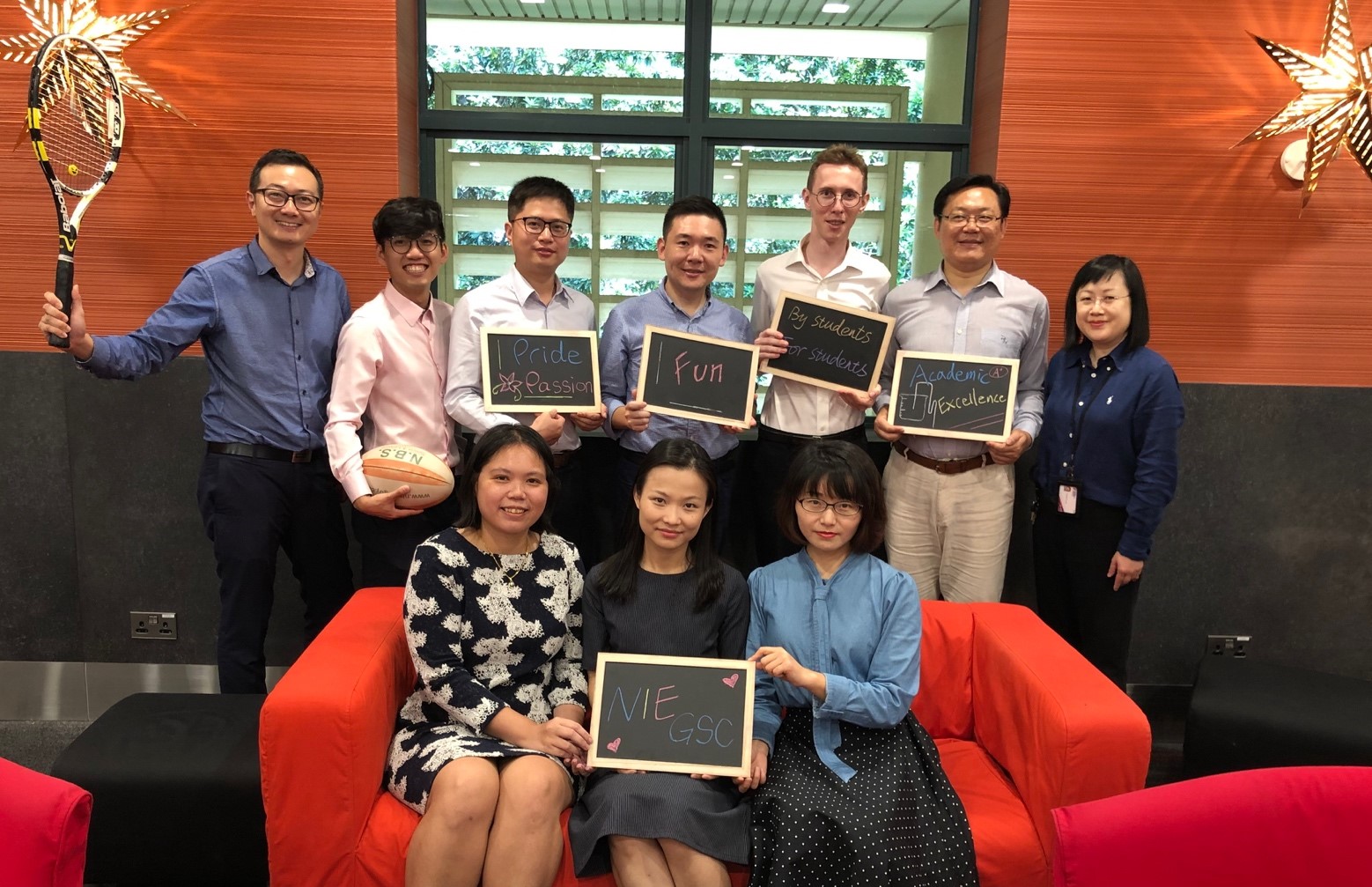 For long, NIE's ever-growing graduate student population has not been represented by a student body which is dedicated to nurturing a healthy and meaningful learning environment for the students. Feeling this absence, with the support of the Office of Graduate Studies and Professional Learning (GPL), a group of passionate volunteers initiated a proposal of NIEGSC and drafted its constitution in late 2018. With the approval of NTU Student Affairs Office and the endorsement of all NIE graduate students, the club was officially formalized in Feb 2019.
Mission
To foster a cohesive, conducive, and vibrant environment by championing students' rights and organising meaningful as well as engaging activities targeted at graduate students
Vision
A conducive, cohesive and vibrant community for all graduate students
Motto
To serve with pride and passion
Tagline
By students for students
Zhang Weiyu | President
First-year PhD (Arts) ELL
Weiyu's doctoral research examines linguistic features of academic writing, which has the practical value to guide the teaching and learning of English for Research and Publication Purposes.
As the President of NIEGSC, her duty is to work together with the Management Committee to set club goals, plan annual activities, and monitor the operation of the Club to ensure it works towards achieving its mission.
Sun Xiaoya | Vice-President (Academic)
Third-year PhD (Arts) ELL
Xiaoya's research focuses on second language academic writing. More specifically, her dissertation investigates the challenges and coping strategies of Chinese science scholars in their quest for English academic writing and publishing.
As the Vice President (Academic) of NIEGSC, her main duty, in addition to assisting the President when necessary, is to enhance the learning environment of NIE's graduate students and cultivate an atmosphere where they can share and collaborate with each other as a community. For this purpose, she will work together with the team to organize various quality academic events throughout the academic year for the exchange of research ideas and creation of opportunities for collaboration among graduate students.
Zhang Hui | Vice-President (Welfare)
First-year PhD (Arts) ELL
Zhang Hui graduated from Dalian University of Foreign Languages with his bachelor's degree in English Language and completed his Master of Arts in Applied Linguistics at Lanzhou University of Technology in China. Later on, he was supported by China Scholarship Council (CSC) to study in the programs of Postgraduate Diploma in English Language Teaching (PGDELT) and Master of Arts in Applied Linguistics at NIE, NTU. His research interest covers a wide range of topics that emerge from the interface between language education and sociolinguistics. Currently, his research focuses on mapping the linguistic landscape of Singaporean Chinatown and identifying people's attitudes towards various languages that appear in the local linguistic ecology.
As the Vice President (Welfare) of NIEGSC, his main duty is to organize various recreational activities for NIE's graduate students and foster an atmosphere that minimizes anxiety, promotes positive attitudes, and stimulates an excitement for learning. He will work closely with other NIEGSC members to provide a good service to graduate students in NIE.
Wong Yin Ling Angelia | General Secretary
Final-year PhD (Arts) ELL
Angelia obtained both her Bachelor's and Master's degree from the same institution (NIE, NTU) that ignited her interest and passion for teaching. She started her professional career as an English and Literature teacher at a secondary school in Singapore. Her practical experiences from the ground had motivated her to relentlessly hone her craft and stay abreast with the latest pedagogical advancements so as to better cater to the needs of her bubbly and inquisitive students.
As a General Secretary of NIEGSC, she is required to engage in administrative work and the dissemination of information to club members. Additionally, she is expected to render support to the Vice-President (Academic) as she reports directly to her. She aims to expeditiously convey information in an amicable manner.
Cheng Yixiong | Treasurer
Third-year PhD (Arts) ELL
In his PhD research, Yixiong tries to address methodological insufficiencies in critical analysis of advertising with eye tracking technology. Prior to his PhD candidature at NIE, Yixiong received his first Master's degree from Beijing Normal University (Linguistics, 2007) and a second one from National Institute of Education (Applied Linguistic, 2012). He has also been teaching in a university in China where he serves as an associate professor.
Beyond his academic area, Yixiong is also interested in history, gourmet cooking, and leather craft. As the Treasurer of NIEGSC, he is in charge of finance matters of the club.
Liu Yanhua | Publicity Director
Second-year PhD (Arts) ELL
Yanhua's doctoral research examines rhetorical strategies employed by graduate students to communicate their thesis research with non-specialist audiences in the popular Three Minute Thesis (3MT) competitions.
As the Publicity Director of NIEGSC, he aims to facilitate effective communication among the NIE graduate student community, NIE and NTU offices with regard to matters of interest to the community and the club.
George-Cristian Potrivitu | Academic Director
Second-year PhD (Science) NSSE
George-Cristian is an aerospace engineering graduate of a military school in Bucharest, Romania and a double-MSc in space science and technology. He is currently pursuing his PhD in plasma physics and space electric propulsion at the Space Propulsion Centre at NIE. His studies and work on space systems and technologies and satellite plasma propulsion systems brought him to 6 countries in Europe and Asia. He values the scientific importance of plasma propulsion, looking for innovative designs that could solve the small satellite market's growing need for thrust solutions.
At NIEGSC, George-Cristian holds the position of Academic Director working on activities that can complement and improve the academic experience of NIE graduate students. He loves cooking, is a big opera and ballet lover and likes to swim and paint.
Tou Nien Xiang | Recreational Director
Final-year PhD (Physical Education) PESS
Nien Xiang's research interest is in better understanding how physically active and sedentary individuals use perceptual cues to self-regulate exercise intensity.
As the Recreation Director of NIEGSC, he aims to build a close-knit community among graduate students at NIE. He hopes to create a fun and vibrant campus life through recreational activities, which are expected to better connect graduate students together and foster friendships across all academic groups.